Use of this website accepts Terms of Use.

SOLARIA: Full Metal Peril

|

$12

$9 USD

25% OFF
Solaria: Full Metal Peril Preview
Video file is delivered and presented in 1080p mp4 format.
LeadPoisonArt proudly presents a fully animated, voice-acted, cinematic experience in superheroine peril. Solaria faces her first encounter with an Assimilator of the robotic superdrone army programmed to conquer the inhabitants of Earth!
Animation contains sequences of action violence, superheroine peril, and explicit sexual content.
Price reflects the applied 25% discount.


Explicit Content – Adults Only 18+
Running Time: Approx. 9 min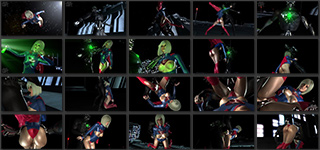 Solaria: Full Metal Peril

is a fully rendered 3D animation created in software used in many feature film productions with original music composed and arranged by LeadPoisonArt.
While this animation is meant to be viewed as an erotic art experience, the superheroines-in-peril (SHIP) genre may contain sexual themes not appropriate for sensitive viewers.
---